Katherine McNamara

Some attributes

Name
Katherine McNamara
Age
17
Born
25th November 1996

Other attributes

Occupation
Actress, singer, dancer, songwriter, and an avid student
Years Avtive
2008-present
Hight
5' 4½" (1.64 m)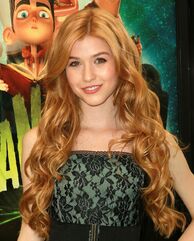 Katherine McNamara was born in 25th November 1996. Katherine is a singer, dancer, songwriter, avid student and a actress.
She began her career when she was 13 on Broadway as 'Fredrika Armfeldt' in A Little Night Music, starring opposite Catherine Zeta-Jones and Angela Lansbury. She was fortunate to continue as 'Fredrika' with the second ALNM Broadway cast of Bernadette Peters and Elaine Stritch as well. Her other theater roles include 'Esther Jane' in the pre-Broadway world premiere of A Christmas Story, the Musical! as well as To Kill a Mockingbird, The Crucible, Inherit the Wind, Annie, The Secret Garden, and Galileo.   
Kat is been seen at October 2012 in Disney Channel's "Girl vs. Monster"
She played in, Kickin' It she played a recurring character 'Clair' a mean girl from Swathmore Academy. Read more see 'Claire'
Hey Jessie!
Nickname's
Interesting facts
Kat

graduated with honors from high school at the age of 14

Her mom called her Kitkat sometimes when she was little. So her someone said 'why don't you call your fans not Kitkat?'