Meet Katherine McNamara, A Triple Threat from Missouri 'who fell into Acting' when a family friend put on a theater production and asked her if she was interested in being a part of it. She said yes. Since catching the acting bug at the show McNamara has been constantly working. Katherine has worked with A-list actors such as Robert DeNiro, Bernadette Peters, Abigail Breslin, Halle Berry and Alec Baldwin. Did we mention she just turned sweet sixteen? With Intelligence beyond her years Katherine has the ingredients to make it far in this industry. In the Past year McNamara has starred in New Year's Eve, a string of shorts, and a pilot for the Disney Channel. Her Resume Doesn't end there she has also Guest Starred on popular shows such as 30 Rock and Drop Dead Diva. Katherine most recently wrapped a Feature based on two of Mark Twain's beloved books Tom Sawyer & Huckleberry Finn which is ironically set in her home state of Missouri. Somewhere between all of this McNamara managed to graduate High School at age 14, but she's not like every other actress in Hollywood, Katherine is currently in college and is studying for a degree in Business. We got a chance to talk to Katherine about her Career beginnings, Her Kit-Kats (The name of her fans), New Year's Eve and her bright future.
-------------------------------------------------------------------------------------------------------------
D2D: How did you get started with acting?
KAT: I always say I fell into acting backwards, I never thought I'd be an actor when I was younger, I was a dancer and softball player when I was very small. One day I ran into a family friend, who was directing a community theater production, he asked if I wanted to audition and I said hey why not, let's try something new. I definitely caught the theatre bug doing that show, I just couldn't stop. Performing brought me this indescribable joy. That eventually snowballed to me ending up in New York City in a Broadway show and now here In Los Angeles doing children's Television.
D2D: What can we expect from your character in New Year's Eve?
KAT: I can't say much about my character in New Year's Eve. Lily is a bit of a mean girl but she means well. My role is quick but Lily plays a pivotal role in the story. Im really excited to see what everyone thinks about it but remember I'm really a nice person in real life!
D2D: Do you have anything in common with your character?
KAT: I don't have much have much in common with my character the only thing I can say is that Lily has an amazing fashion sense and I try to keep up with the trends in my own unique way although if I could have Lily wardrobe I definitely would! I've even toyed with the idea of doing a fashion Friday post (on her characters fashion) on my tumbler.
D2D: What was your reaction when you booked New Year's Eve?
KAT: When I booked NYE I was actually quite shocked, I auditioned months before in New York City and I thought everything had been cast, I also auditioned for a completely different role. I was psyched when I found out I booked it, I couldn't wait to work on the Project.
D2D: What was it like working with Abigail Breslin?
KAT: Abby is so great to work with, I love her so much. She is such a great actress and completely awesome person. We've actually kept in touch since filming (New Year's Eve) we're both huge fans o
f Pretty Little Liars so we always chat about the latest episodes
D2D: What is your favorite memory from shooting?
KAT: 'On NYE ,my favorite part had to be when we were shooting the countdown to 2012.We were all decked out in 2012 gear shouting '5.4.3.2.1 HAPPY NEW YEAR!' And I think the people walking down the streets of New York thought we were crazy, But you know Its New York!
D2D: If you weren't an actress what would you be doing?
KAT: I love performing so much; I'm also a singer and a dancer. I don't think I could truly be happy doing anything else, actually I couldn't imagine it!
D2D: You Recently Wrap Tom and Huck, What was it like filming in Bulgaria?
KAT: Bulgaria was actually amazing; it was my first time out of the US so it was an eye opening experience for me. I loved Sofia the capital city, it was so neat to walk down the cobble stone street and visit all the local shops, the scenery was just beautiful too .The caves we filmed in were absolutely breathing. In between scenes Joel ,Jake and I would go exploring the caverns it was completely beautiful. It actually looks like just Missouri where the film is set. Oh and Joel and I were on the search for the best mashed potatoes in Bulgaria!
D2D: Who was the on-set Prankster?
KAT: Joel ,Jake and I all messed with each other quite a bit during filming. Everything from staring contest, to bunny ears, all sorts of silliness went down on that set.
D2D: Can you tell us about the movie?
KAT: It's really neat what they did with Tom and Huck .They took elements of both of Mark Twain's books and combined them togther .Also the roles of Tom, Huck and Becky have been aged about 3 years to 15/16 that way the story can be even more intense. It should be a great movie I can't wait to see it!
-------------------------------------------------------------------------------------------------------------
'Dream Question's'
'D2D: What is your Dream Car?'
'KAT: BMW X3 X5'
'D2D: What is your Dream Job?'
'KAT: Exactly what I'm doing right now performing, being a constantly working actress.'
'D2D: Who is your Dream Co Star?'
'KAT: Meryl Streep or Matt Damon'
'D2D: Who is your Dream Duet?'
'KAT: Sutton Foster, Amy Adams, Cody Simpson, China-Anne McClain, or Fred Astire I Could not decide I'm so bad at this!'
'D2D: What is your Favorite Movie?'
'
KAT: Cover Girl ( Rita Hayworth), Funny Face( Fred Astire and Audrey Hepburn), Julie and Julia, or Super 8'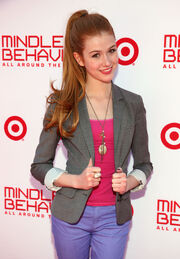 'D2D: What is your Favorite TV show?'
'KAT: Pretty Little Liars and So You Think You Dance'
'D2D: Who Is your Favorite Singer?'
'KAT: Sara Bareilles,Lady Antebellum,Taylor Swift ,Bruno Mars and Kelly Clarkson'
'D2D: Ice Cream or Frozen Yogurt?'
'KAT: I Actually like both, as long as it has cookie dough in it I'm happy!'
'D2D: Forever 21 or Urban Outfitters?'
'KAT:Forever 21'
'D2D: Harry Potter or Twilight?'
'KAT: I'd have to say Harry Potter only because I've seen all of the films I should really catch up on the Twilight Saga!'
'-------------------------------------------------------------------------------------------------------------'
'Twitter Q and A'
'D2D: @TayTiffyandGfan Ask Kat if you could dye your hair any color what would you dye it?'
'KAT: I love my hair color now, but I love trying new things so I'm open to any color.'
'D2D: @JacobCanary My question for Katherine McNamara: if you could be an animal, what would you choose? '
'KAT: I would be any kind of song bird I could fly around and sing and look at all the beautiful scenery down below.'
'D2D: @Marissaw143 Kat will you ever have a meet and greet in LA? '
'
KAT: I would love to have a meet and greet, It would be really cool to meet my Kit-Kats (Her fans name) you guys are my inspiration to be my best everyday.'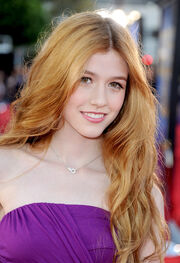 '''D2D: What advice do you have for aspiring actors and singers?'''
'''KAT: My advice is never give up, be yourself and have fun. In life it important to look on the Brightside of everything, especially as an artist you need to see the unique quality's you're blessed with. I always spell unique Y-0-Uique because being your self is the most important things to remember, celebrate your differences it's what makes you special. I always tell people to be strong, be accepting and be unique. Be strong in your beliefs; be accepting with others and yourself and be unique so that your individual talents can make the world a better place. This is my advice to anyone not just performers.'''